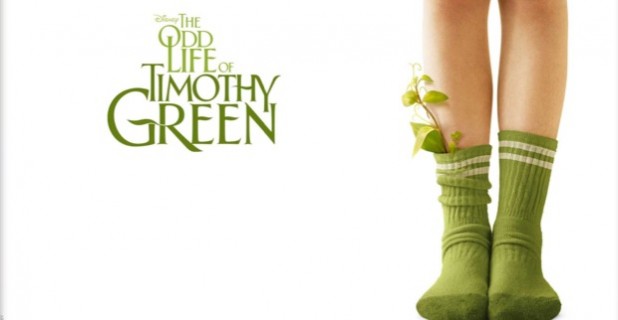 Sometimes life lessons can come to us from the least likely places. The movie The Odd Life of Timothy Green contains many powerful principles for a happy, fulfilled life from which you can benefit.
At the beginning of this marvelous tale, Jim and Cindy Green have just been told that despite many tests and procedures, they will never be able to bear children. As part of their grieving process, over a bottle of wine, the couple writes the ideal quantities they would like their child to have. They then seal them in a small wooden box and bury it in their garden – a ritual that they performed to help them move along emotionally from the devastating news they received from their doctor.
That night, a magical event happens and 10-year-old Timothy emerges from the garden, embodying all of the qualities they had hoped for. This is a great story, well told, which is embedded with numerous subtle messages about living a worthwhile and successful life.
Here are some of the life lessons that hit home for me:
(Spoiler alert: In order to explain some of these principles, I reveal key events in the movie's plot).
1. Never give up. Keep trying and learning, even when the odds appear to be stacked against you.
2. Believe in others. You never know what they may be inspired to do because of your support. During a key a scene, Timothy encourages his parents not to be resigned to the fact that the pencil plant was about to close, causing much hardship for the residents of Stanleyville. He suggests that they brainstorm a design for a new type of pencil, which they are inspired to do and which ultimately saves the factory and everyone's jobs. When the going gets tough, the tough get creative!
3. Share your gifts unselfishly with others. Toward the end of the movie, Timothy shares his precious leaves with those he loved and those people whom he really wanted to influence, such as Timothy's emotionally distant grandfather and his soccer coach. Be generous with your gifts – your time, talent and treasure. Pay it forward. Be a positive influence to those around you. Do good wherever and whenever you can.
4. Be quietly confident in your purpose and values. Be resolute in your direction, but flexible in the paths that will take you there. Timothy wasn't loud, boisterous or popular. He was a quiet kid, who knew what he was here to accomplish – to convince his parents to never give up on their dream of having children. To help his friend Joni realize that she wasn't a weirdo, that it's okay to be different and to express yourself through art and other media. And to leave a positive ripple effect on the people of Stanleyville.
5. When the chips are down, put your marvelous brain to work brainstorming potential solutions. Better yet, brainstorm with someone else, as Jim and Cindy Green did to come up with their new pencil design. When it comes to ideas, two heads are always better than one.
6. Never miss an opportunity to bring joy into the lives of the people you love. Timothy could have listened to his parents and stayed away from loner goth girl Joni. But I think he sensed there was something more to her than meets the eye, that she had some unique gifts that were brief just below the surface of her tough exterior. She gave back by cheering for Timothy at the championship soccer game, and still hanging out with him – even after he scored the winning goal for the other team.
7. Never lose your childlike innocence. It's what keeps you open to possibilities. If you have become cynical, chances are you've also closed your mind to possibilities and opportunities that may be lying right in front of you, waiting to be discovered. Timothy embodied childlike innocence. New-born into the world at the age of 10, he didn't have a chance to be beaten down and made cynical by the world and its perceptions of class, status and the pecking order of his peers. When he was bullied, he viewed the event with bemusement, not anger, for example. Timothy was a true innocent, which enabled him to see our world through fresh eyes.
8. Don't be fooled by external appearances. Just beneath the surface, many people have marvelous gifts, just waiting to be brought forth in a trusting, safe environment – as embodied by the development of the character Joni.
9. Don't let your gifts wither on the branch, like leaves in autumn. Look for ways to express them. Did you notice in the movie how Cindy Green (played by  Jennifer Garner) was more free to express herself – artistically and in support of her son – after she was fired from her stifling job as the receptionist of the town's pencil museum?
10. Love the people you care about with all your heart, because you may only have them for a season.
If you haven't seen this movie, you owe it to yourself to do so. You'll be glad you did!