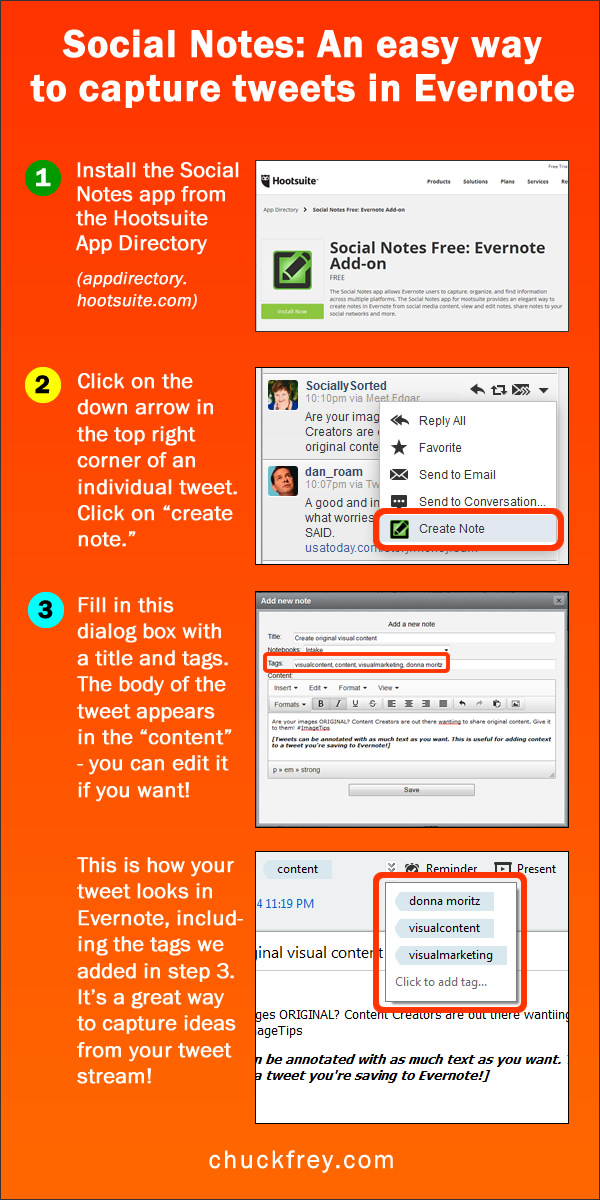 Social Notes is an app for the popular Twitter client Hootsuite that enables you to send tweets from it to your Evernote account. I recently started using it and found it's well designed and easy to use. Here's how it works.
Social Notes is a free download from the Hootsuite App Directory. Oddly, it's not possible to reach this directory from the tools menu of this Twitter client. Clicking on "tools" and then "extensions and downloads" only takes you to a web page that contains a handful of featured apps. You must click on App Directory in the footer of this page to find a searchable list of apps to enhance Hootsuite.
When you install Social Notes, it adds a "create note" command to the bottom of the drop-down menu at the upper right corner of each tweet. When you click on it, a dialog box opens and prompts you for the title the body and any text that you want associated with the tweet note. The app automatically fills in the body of the message with the tweet, while the sender becomes the title. You can easily annotate the content of the tweet with notes and apply simple formatting to the text.
A drop-down box containing the names of all of the notebooks in your Evernote account enables you to tell Social Notes exactly where you want your tweet note stored within your personal database. I definitely recommend changing the auto-generated title with one that is more relevant to the content of the tweet.
How is Social Notes useful?
I'm a big believer in using my Evernote to capture ideas that I hope to implement, as well as inspiring articles, ideas and strategies that I can include in my personal database for future reference. This free app now extends my ability to easily capture tweets in my personal idea base – and for that I'm grateful!