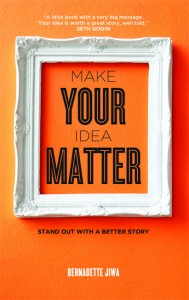 Make Your Idea Matter: Stand Out With a Better Story by Bernadette Jiwa is a marvelous book that has extended my knowledge in a key area and has inspired me to higher levels of performance. Here's why.
I recently reviewed The Impact Equation, the best-selling new book by Chris Brogan and Julien Smith, which made the important point that we can't just churn out ideas – we must invest time shaping them, to ensure that they resonate with our target audiences. Make Your Idea Matter is the perfect complement to The Impact Equation, because it explains HOW to do this by following a set of practical tips and strategies.
Whether you're selling a product, service or yourself, Jiwa explains how to build a customer-focused brand in layman's terms, and provides numerous examples to inspire you to develop your own compelling story of your own.
The core idea behind Make Your Idea Matter is that persuasive ideas are customer focused. Most people come up with a hunch for a cool idea. They talk to a few friends and colleagues, who agree that it's a really great concept. So they develop it, launch it and hope for the best. Then they're disappointed when it gets a tepid response from their customers. And they need to rely on an aggressive marketing campaign to try to command attention for their shiny new product or service.
In other words, great ideas start with the customer, not with the cool idea itself.
Ideas that are rooted in a deep understanding of your target customers needs and wants tend to be more successful. They don't just provide cool features and benefits, but appeal to us at a deep emotional level. They make us identify with their vision and mission for changing the world. Or they make is feel like we're pat of a larger movement.
As an online publisher, I'm keenly interested in creating content, products and services that meet the needs of my readers, get attention and catalyze action. Make Your Idea Matter contains a treasure trove of ideas and approaches I want to try, as well as thought-provoking questions I plan to ask about my online business, its mission and my readers' needs.
I can't recommend Make Your Idea Matter highly enough. Yes, it's that good.
At only US$2.99 for the Kindle version and $7.99 for the softcover, investing in it is a no-brainer. Just do it! (apologies to Nike) I recommend that you download the Kindle version to the reader on your smartphone and take advantage of downtime to reflect on Jiwa's questions and brainstorm compelling word pictures of your mission and the stories you need to tell. That's what I'm going to be doing in the coming weeks!