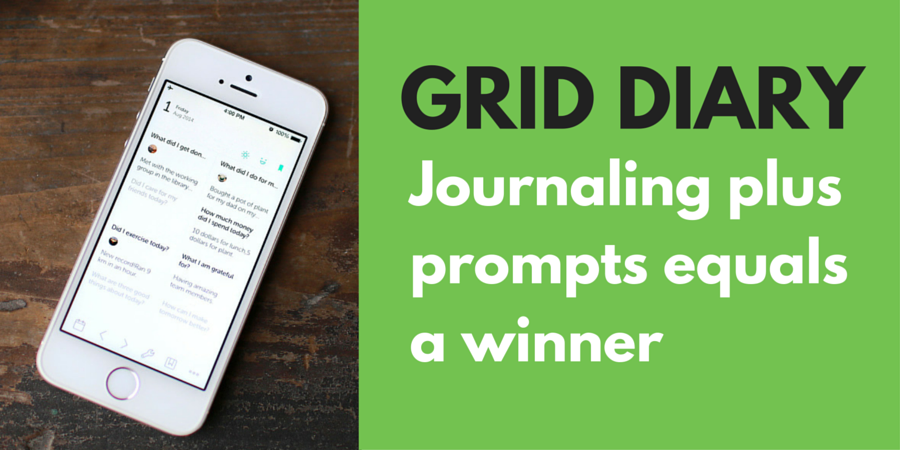 For many years, I've been intrigued with the idea of journaling, but I've never gotten started on it because I haven't found a format and system that makes it easy for me. Thanks to a fascinating iPhone and iPad app called Grid Diary, that has changed.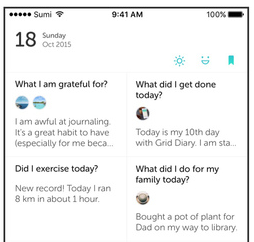 Grid Diary solves the problem of writer's block by presenting a set of prompts, arranged in a five row by two column grid. If you don't like any of the prompts it displays, you can tap a button and more will appear.
In my opinion, prompts are critical because they address a basic human need. Faced with a blank screen, most of us don't know what to write. But put some stimuli in front of us, and our powerful associative brains leap into action.
Prompts are the basis of just about every brainstorming tool I've ever written about. Developers use them because they work. If they force us out of our comfort zone, they can also reveal new insights and ideas to us.
That's why creative stimuli – or prompts – are so important, and why I'm so excited that the developer of Grid Diary has given them such a central role!
Adding your thoughts to Grid Diary
To begin writing, simply tap on one of the prompts and a screen opens up with the prompt as its headline. Then you can start typing your note or, as I prefer, dictate it into the app using Siri on my iPhone.
Like any typical digital or paper diary, Grid Diary enables you to create one or more notes for each day on the calendar. It also enables you to capture more esoteric information, such as your mood and the weather. You can also add photos to notes, which should help with recall when you view an entry many days, weeks or months later.
Exporting diary entries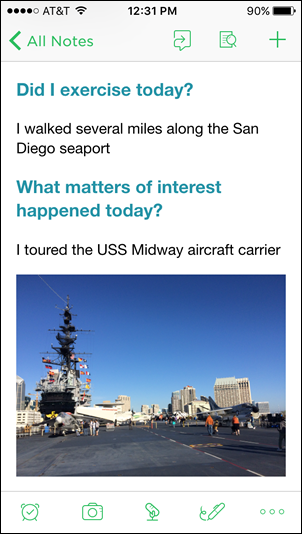 One of the most intriguing features of Grid Diary for me is its ability to export notes to Evernote, my favorite personal information manager. This means I can use Grid Diary as a front-end system for capturing bits of inspiration that may be useful someday, organized in a searchable daily notes format.
I answered several prompts over a period of two days, and then exported them to Evernote. They were attractively formatted, with the date in bold at the top of the note, followed by mood and weather status, and then the prompts I answered, formatted in a very nice bold aqua color.
I linked my Dropbox account to Grid Diary and experimented with that, too. It creates a new folder of the same name within your account. Diary entries can be exported as plain text, markdown (a structured markup language) or as a PDF. I sent a PDF of a diary entry that contained 2 updates and an image. Like the Evernote output, the format was very professional-looking.
Conclusion
Grid Diary is a well-designed, simple app that is a pleasure to use. I wish it would allow me to add my own prompts to it. I would love to add a series of questions to it that I could use to capture my creative inspirations in a daily basis.
I checked with the developer, and he is considering adding this capability in a future version of Grid Diary.
Grid Diary is available on the App Store for free, with in-app purchase for a Pro upgrade for $4.99. The Pro version adds the Evernote and Dropbox export, plus a "night" mode that switches the screen to white letters on a black background – ideal for using Grid Diary in dark locations. The Pro version also enables you to apply a passcode lock to your diary to protect it from prying eyes. In addition, iCloud sync is also available for backup and restore.
To learn more and download this useful app, please visit its web page or its page in the Apple Store.