I recently became a digital nomad. With this change in employment came an opportunity to try out a new system of notetaking. In the process of exploring notebooks, I discovered one that's a perfect fit for my needs – and which has given me a big boost in productivity.
My traditional approach to note taking
In the past, I always used white or yellow legal pads to take meeting notes. I would then tear them off the pad, staple them and put them in a project folder. Although I know that having a single business notebook that contains all of your notes, reminders and ideas is an increasingly common practice for executives, it was something that I had never really tried – until now.
I actually started using legal pads in my new position, but found them to be very ponderous. Often I was working in coffee shops, at tables with limited space. Soon, I had three legal pads filled with notes, and no convenient way to access them. So I took a fresh look at the idea of a single business notebook for all my jottings.
My needs
Considering my new workspace requirements, I developed the following list of criteria:
A durable cover, not easily damaged
A compact size – full 8.5 x 11 page size, but not too thick
Perforated pages, so if I decide to tear out a set of notes and put them in a project folder, I can still do that easily
High-quality paper for writing or sketching
A wire spine, so I can fold the cover and the pages I've already written on back behind the rest of the pad – so it doesn't take up too much room. I often work on tables in coffee shops, where space is often at a premium.
Affordable. I recognized that I didn't need to buy a super premium brand of notebook to meet my needs. If the notebook I selected was too expensive, I wouldn't stay committed to my new system of note taking.
The solution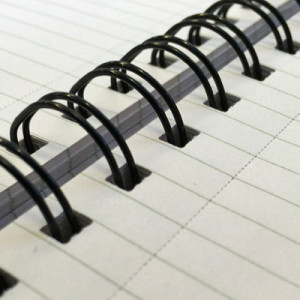 After looking at a variety of journals at Barnes & Noble and business notebooks at an office supply store, I settled on the Cambridge hardbound, 8.5 x 11 inch Business Notebook with Pocket. It has turned out to be an affordable, elegant notebook that is an excellent fit with my needs. Here's what I like about it:
I love the fact that it has a wire spine, which allows me to turn the notebook back on its cover. This takes up less space, which is critical when I'm working on a small table in a coffee shop and the majority of its surface is already taken up by my laptop.
The notebook is only a little over one-half inch thick, which means it's easy to slip into my computer bag and take with me wherever I'm working. Despite this notebook's compact thickness, it's still contains 96 pages – plenty of room for all of my notes and ideas.
The notebook paper seems to be a very good quality, and is easy to write on. The lines on it are not very dark, which means I can easily alternate between writing, sketching and diagramming.
I also love the fact that I can have the best of both worlds: I can keep all of my notes in a single notebook, but can still remove pages as needed.
The plastic pocket inside the front cover is very convenient for carrying conference programs, receipts and other bits of paper that I need to keep track of throughout my day.
Best of all, it only costs $12.99, and can be found for several dollars less on Amazon.com. This makes it quite affordable.
The only minor complaint, which several reviewers have also voiced on Amazon.com, is that the label that is affixed to the front cover of the notebook must be peeled off very carefully. Otherwise, you will tear off part of the linen cover, giving this business notebook a less-than-professional appearance.
This notebook has resulted in a big boost to my productivity – because all of my notes are in one place. No more hunting through dozens of folders for just the right set of meeting notes.
If you're looking for a versatile business notebook that won't weigh you down, I highly recommend the Cambridge hardcover Business Notebook.