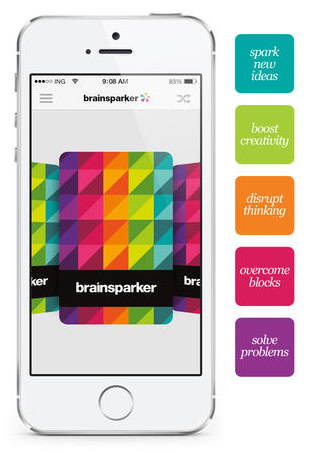 Brainsparker is an intriguing card-based brainstorming app with a difference: It is flexible, expandable and enables you to share your ideas in a variety of ways. That makes it a worthwhile addition to your Apple mobile device.
Brainstorming with Brainsparker
To brainstorm, you shake your iPhone or tap the shuffle icon on the home screen; Brainsparker shuffles the 52-card deck. A procession of colorful card backs step across the screen.Tap it to select a random card; it card flips over to reveal its contents, which may consist of words, questions, quotes, actions or images. The object of the app is to help you see your challenge from new perspectives and to inspire you with fresh insights and ideas. Based on my experience in reviewing other creativity tools and apps, this looks like a good cross-section of thought-provoking stimuli.
The default functionality of Brainsparker is to shuffle all of the cards. But you can also use checkboxes in its settings to limit the "deck" to specific card types. One that I tried, for example, was to only display questions, since they are often an excellent source of creative inspiration.
Brainsparker also enables you to set a specific time each day when it will prompt you with a random card or "spark" – a great way to start your day!
Share your ideas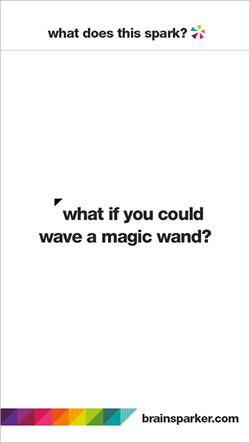 In addition, the app allows you to share a spark via e-mail, SMS message or Facebook. I e-mailed one brainspark to myself to test this functionality; the app sent a jpg image of the card as an attachment to the e-mail address of my choice (see image at right). This is a great way to get more minds involved in helping to develop creative solutions to your current challenge or to inspire your colleagues at work.
Expansion packs of 52 additional question and 52 word cards can be purchased within the app for $0.99 each. If you buy this app, getting the expansion packs is a no-brainer. More stimuli equals a greater range of ideas.
Conclusion
This is a well-designed app with a nice selection of creative stimuli. It's equally well-suited to individual or team brainstorming sessions. It's quite admirable that the developer has designed it with expansion in mind.
My only minor complaint is that there isn't an option in Brainsparker to turn off it's shuffling sound without turning down the iPhone's volume (the developer informed me that sound effects CAN be turned off in the app's settings menu). That doesn't overshadow its great design and utility as a brainstorming tool. It will be interesting to see how Brainsparker evolves!
The developer, leadership and innovation consultant Gabriella Goddard, plans to release a  free downloadable brainsparker kit in mid-April that will show you how to use Brainsparker in life, at work and with groups and teams.
Where to get it
Brainsparker runs on the iPhone and iPad; you can download it for free from the Apple AppStore.