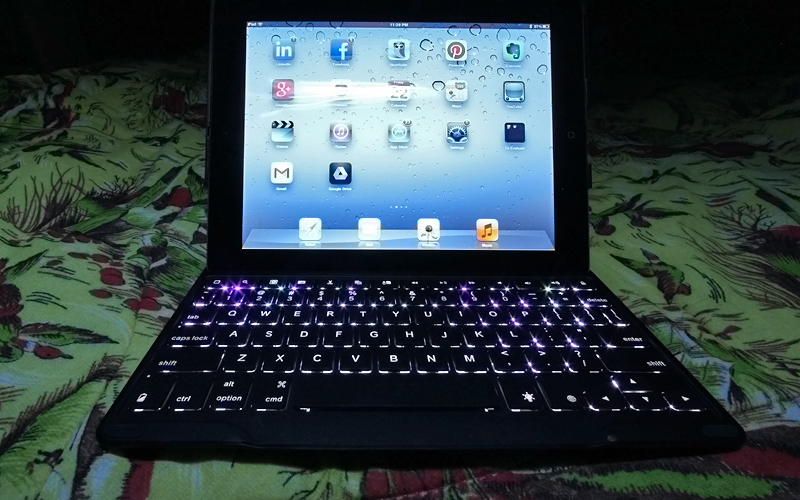 Six months ago, I purchased a ZAGGkeys PROfolio+ keyboard for my iPad 2. This is quite literally the best keyboard I have ever seen for a mobile device. Here's what I like about it:
The ZAGGkeys PROfolio+ doubles as a keyboard and a protective shell for the iPad. This svelte keyboard is less than an inch thick, but is made of high-impact polyurethane plastic. It protects the iPad front and back, and stays closed with a clever magnetic latch. It connects to the iPad using bluetooth – no wires to mess with.
When you slide your iPad into the sleeve that makes up one half of this keyboard/cover, it slides in firmly but easily. I've had iPad covers that I've literally had to wrestle my tablet into and out of. None of that here. It's the perfect fit for my iPad 2.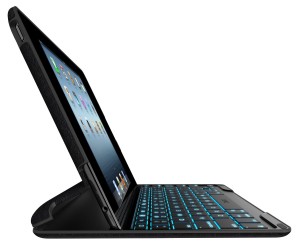 At the top rear of the keyboard is a slot, which the iPad stands in. The slot in which the edge of the iPad rests is deep enough that I don't have to worry about the screen sliding out of it. ZAGG says it's held at an "ideal" viewing angle. I agree – it has worked really well for me.
When you open up the magnetic cover, you're greeted by a matte black keyboard that looks very elegantly designed. The keys are of a decent size, not packed in too tightly. The keyboard is surprisingly responsive and I can easily type at the same speed as I do on my laptop. In fact, from time to time, I forget that I'm working on an iPad plus a keyboard. Together, they act just like a small laptop.
Backlighting is a real plus
I love the fact that the keyboard lights up, and that I can easily control its brightness level from a key next to the space bar. The keys are lit from behind and the characters on the keytops are slightly translucent. In the dark, they have a nice glow to them, and the edges of the keys are lit by the light behind them. It's a very effective combination that makes the keys very easy to read in the dark. This makes the ZAGGkeys PROfolio+ ideal for working in bed at night, when camping (as pictured above) or on a cross-country airline flight after dark. You can easily change the backlighting to any one of 7 different colors. To conserve battery life, the backlighting automatically turns off after 60 seconds, but can be turned back on by tapping on the backlight key.
The keyboard is rechargeable, using a short micro USB cord with that plugs into any standard USB charging plug for the iPad. I found that I was able to go for several months before I had to recharge it.
Where does this keyboard come in handy?
Here are some places where the ZAGkeys PROfolio+ and the iPad can really shine (pun intended):
This combination is easy to use in business meetings where table space is at a premium or a full-sized laptop might be too intrusive.
It's also an ideal setup when you want to steal away to a quiet spot to do some brainstorming.
Because of its small footprint, you'll want to use it when flying on commercial airline flights – no worries about the person in front of you just about breaking off your laptop's screen when they put their seat back into the reclining position.
If you travel to conferences or sit in classrooms where the room lights are dimmed so the presenter can display slides, you'll still be able to take notes using the light-up keyboard.
If you tend to get late-night inspirations, keep your iPad nestled in the PROfolio at your bedside. You'll be able to capture your ideas without turning on the lights in the bedroom.
Because the PROfolio+ does such a great job of protecting the iPad without adding a lot of weight or thickness to it, you'll find yourself taking them more places. I find that it has moved me one step closer to putting my laptop aside. It has become my go-to machine for writing and brainstorming.
Conclusion
If you own an iPad 2, 3 or 4 but have never considered buying a combination keyboard/case for it, you owe it to yourself to take a look at the ZAGGkeys PROfolio+. It's design and construction is first rate, and its excellent keyboard will skyrocket your productivity compared to using the iPad's on-screen keyboard. It's not inexpensive, but even at US$130, I believe it's an excellent investment.
If you don't want to pay extra for the backlighting, Zagg also offers a version without it. I highly recommend this product – it's cool, well-designed and works quite well!