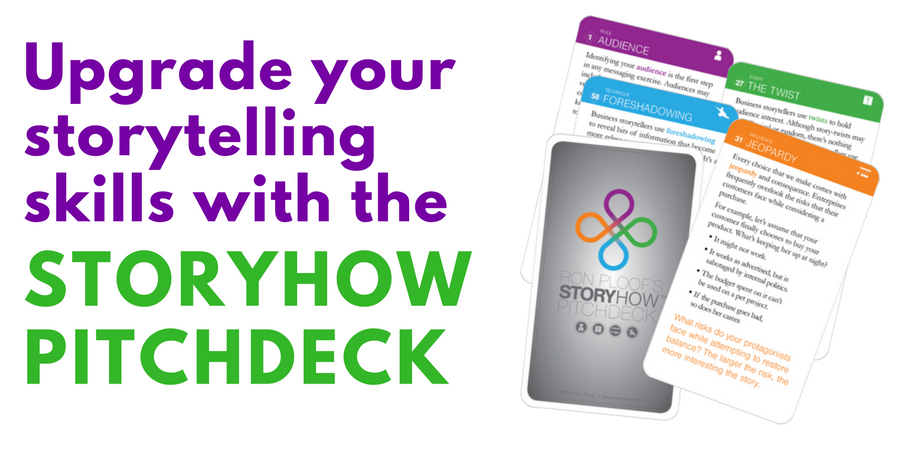 If you're struggling to tell compelling, memorable business stories, Ron Ploof's StoryHow Pitchdeck may be just the creative tool you need to upgrade your skills in this important area.
For most of us, storytelling isn't usually one of our strengths – even if we do business writing for a living. We're used to laying out the facts and making them persuasive, when needed. But with the rise of content marketing, storytelling has become an in-demand skill, especially as a tool to capture an audience's attention and to get them to take action. The StoryHow Pitchdeck is designed to help you take an idea, message or presentation through the process of becoming a story.
An overview of the card deck
This set of 60 cards is divided into four suits:
Role cards determine the characters (such as customers, products and services) that play parts in your story
Event cards help you define the situations that occur in your story
Influence cards help you bring shape to the motivations behind people's actions
Technique cards help you refine your story, adding structure, meaning and memorability to it.
Each suit is a different color; in addition, there are eight white-backed cards, which Ploof calls the "starter hand." More on the role they play in the storytelling process in a bit.
Each card is divided into three sections:
A definition,
Examples, and
A call to action – a simple exercise you perform to use what you've just learned
An example card
Card 23, Setback, drawn at random from the deck, is a great example of how each card is structured. It starts out by briefly explaining what a setback is, and the role it plays in stories. As an example, Ploof invokes the "Miracle on Ice," the 1980 American Olympic hockey team that overcame an early loss to the Soviets to win the gold medal for this sport. Finally, the Setback card contains an exercise: "Does your protagonist seem invincible? Does she succeed too easily? If so, throw a few setbacks at her to see how she responds."
Who can use the StoryHow Pitchdeck?
Ploof explains that the Pitchdeck is perfect for individuals who want to transform their ideas into memorable stories, organizations that need help telling more compelling stories and differentiating themselves, and agencies that need to draw the best stories out of their clients.
Applications include making sales and marketing messages more memorable, transforming presentations into more compelling narratives and to help teams find and tell the best business stories.
How to use the StoryHow Pitchdeck in your work
To get started using this tool, Ploof recommends that you begin with the "starter hand" – 8 cards with white backs that help you build the overall structure of your story. This includes the audience, protagonist, initial impulse, ending, jeopardy, emotional choice, purpose and meaning. Following the instructions on each card, you build the framework of your story. The rest of the card deck is designed to help you add depth and breadth to it.
To do so, you can use several methods:
Shuffle the remaining 52 cards and use them as a random brainstorming tool. If a card contains an idea you can add to your story, great! If not, you can continue to draw cards, one at a time, until you find one that inspires you.
Separate the 52 cards into four shuffled decks: roles, events, influences and techniques. Select the top card from each mini-deck to create a "booster hand."
Don't discard a card if you get stumped by it. Consider it a challenge and work within its limitations. Sometimes, this can reveal a truly creative idea or insight.
Flip through the deck until you find a card that inspires you. Ploof says this exercise is perfect for those times when you get creatively stuck.
The StoryHow Pitchdeck isn't just for solo story-storming. You can also use it with small groups. His website contains several exercises that are perfect for group work. Another technique is designed specifically for use by creative agencies to help "juice" their thinking about client challenges and assignments.
My impression of the StoryHow Pitchdeck
This is a well-designed creative thinking tool that meets a growing need. Ploof has done an excellent job designing and structuring it to meet the needs of business writers. The only thing I can see that's missing are some examples of how to connect it to products and services – which, he tells us, can actually be the protagonists of stories.
I do a lot of business-to-business writing, which frequently involves arcane industrial products and services. It's a bit harder to make the creative leap to product storytelling versus stories that involve people, in my opinion. This could be easily solved by providing some examples or exercises on his website. This may also help him demonstrate that this is a great business use of the StoryHow Pitchdeck. Otherwise, potential B2B customers may look at it and say, "This doesn't look like something I can use."
Ploof's website also points out that the Pitchdeck can help agencies draw the best stories out of their clients. I'd like to see a case history or two or perhaps a blog posts that explains, briefly, how to use the card deck in this setting.

I discovered these stories actually DO exist – in Ploof's excellent blog. Perhaps linking the StoryHow Pitchdeck product web page to some of the best blog stories about it would help remedy this shortcoming. The stories are there – they just need to be made more prominent, because it's the user stories (naturally) that will help to sell this brainstorming tool (which, if you stop to think about it, is trying to sell someone a product they didn't realize they needed).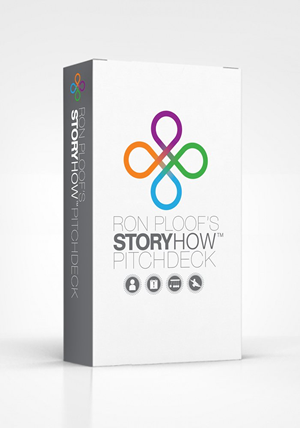 If you want to see the type of thinking that has gone into the StoryHow Pitchdeck, I recommend you invest some time perusing Ploof's blog. I think you'll be impressed, as I was, by his selection of topics, and the engaging way in which he covers them. Clearly, he practices what he preaches! In addition, he makes the instructions for the StoryHow Pitchdeck freely available here. It's a great place to learn about the thinking behind this excellent tool.
The StoryHow Pitchdeck is available from Amazon.com for US$49. This is a tool that will pay for itself many times over, and will help to transform the way you view business writing and storytelling. I highly recommend it!