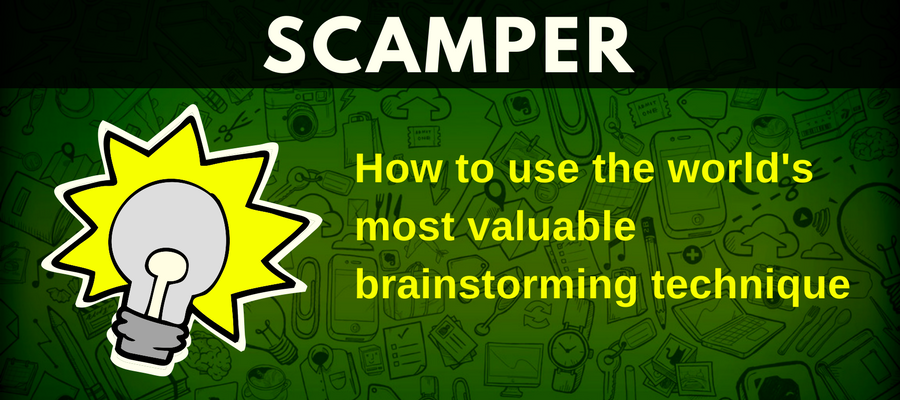 If you're looking for a simple, easy to use brainstorming technique, SCAMPER is all that and much more. In this blog post, I explain how to use it and also provide you with two free resources you can use to get the most out of this powerful creative thinking technique.
During the last several decades, one of the most widely used and successful brainstorming techniques ever has been SCAMPER. Its name is a mnemonic for Substitute, Combine, Adapt, Modify/Magnify/Minify, Put to other uses, Eliminate and Reverse/Rearrange. SCAMPER was first developed by Bob Eberle, who wanted to provide a set of targeted questions that people could use to solve problems or boost creativity during brainstorming meetings.
SCAMPER is powerful because it forces you to look at creative challenges from a variety of perspectives. In the process, it whacks you out of your usual, rutted mode of thinking and helps youy explore some fresh pathways of thinking.
SCAMPER is popular because it's easy and fun – and, most importantly, it frequently delivers excellent results!
7 perspectives are better than one.
How to use the SCAMPER brainstorming technique
Start by clearly defining your challenge or problem to be solved. If you're conducting a group brainstorming session, make sure you and your colleagues have a clear, shared conception of the problem. You should be able to summarize it in a few words. Once you've completed this step, you can start working with SCAMPER. Feel free to pick any letter in the mnemonic for your brainstorm, and to move freely between them.
There is only one rule to use SCAMPER effectively, and it's the same one that applies to every other brainstorming technique you can imagine: Don't self-censor. Record EVERY idea, no matter how crazy, far-fetched or off base it seems. You never know – a ridiculous idea may become a stepping stone to an innovative idea that's just right to solve your current challenge.
Substitute
The substitute technique focuses on the elements of the product, service or challenge. By changing out one characteristic of it, you may completely transform its value. What element can be changed out in favor of something new? For example, a different component, application or process. Consider a different shape, delivery method or type of customer. The sky's the limit!
Combine
The combine technique asks you to merge two products, services, ideas, processes or solutions together, to see if anything promising results. A great example is the Apple iPhone, which combines a cell phone, music player, web browser, personal organizer and much more – all in one device.
Adapt
To use this technique, think about adjusting or tweaking an existing product or service for a better result. Think broadly, from minor tweaks all the way to sweeping changes. Another fruitful avenue of thinking is to consider all of the ways in which the current product, service or process can be enhanced.
Modify, minify or magnify
For this technique, consider the elements of your existing product, service or process. What would happen if you adjusted one element until it was only a minor part of the solution? What if you magnified it until it dominates it?
Put to another use
This technique is excellent for finding new uses or applications for a product, service, process or problem.
Eliminate or elaborate
What can be eliminated from the product, service, process or problem? If one element or segment isn't adding value, perhaps now is the time to remove it and redeploy the resources it was using elsewhere.
Reverse or rearrange
Finally, the reverse or rearrange technique asks you to take the elements of your product, service, solution or process and switch them around. A case in point: Years ago, concrete mixer trucks discharged their payload from the rear of the truck, which means the drivers needed to be exceptionally skilled at backing into a jobsite. Then one manufacturer had a brainstorm: What if we turned around the mixer barrel 180 degrees, and redesigned the truck so it discharges concrete from a chute in the front, over the top of the truck's cab? This simple reversal quickly transformed the way all concrete mixer trucks were built, because their drivers could now see the jobsite clearly and could optimally position their trucks.
Want these SCAMPER resources?
I've been writing about and using creativity tools and techniques for the last 20+ years. SCAMPER has always been a favorite technique of mine.
Here are two FREE resources I think you'll really profit from:
A SCAMPER template for Evernote: This is a tool I created for my new book, EUREKA! How to Use Evernote to Generate, Incubate, Evaluate & Activate Your Best Ideas. I'm sharing it with you now to give you a sense of its value.
The Ultimate SCAMPER mind map: It contains over 200 questions you can use to think through different perspectives and possibilities for your creative challenge. To the best of my knowledge, it's the most comprehensive SCAMPER list available anywhere!
Why should you use SCAMPER?
It's so easy, anyone can use it – even if you don't think you're creative.
Investing time to brainstorm with it will almost certainly yield attractive results.
It's a great way of "whacking yourself upside the head" to look at challenges and opportunities from new perspectives.
Why use the SCAMPER Evernote template?
It provides a simple framework you can follow.
It gives you a structured way to record your ideas within Evernote.
It acts as a guided thinking exercise to help you get more out of the SCAMPER technique.
Because it's a template, you can use it over and over on numerous brainstorming challenges.
Loading it into Evernote is easy: simply copy its contents from the Word doc template and paste it into a new Evernote note. It will retain all of the existing formatting.
You have nothing to lose (it's free!) and everything to gain (your best ideas ever!)