Obliterate Info Overload | Be More Productive | Be More Influential | Contribute Greater Value to Others
My friend, Dr. Alvin C. Miles, an educator, entrepreneur and the host of Global Leader Radio, has interviewed many global leaders – and now I'm blessed to be one of them!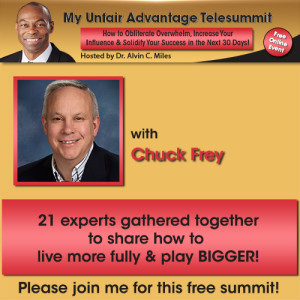 Dr. Miles recently interviewed me to capture my tips, advice and secrets of how I've used my "unfair advantage" – mind mapping – to help others. He also interviewed many more leaders across a variety of industries in an effort to show everyone how close to success they really are!
These interviews will be featured in Dr. Miles' new My Unfair Advantage Telesummit, which begins on November 5, 2015. It's designed to help you reinvigorate your career, increase your value and influence at work and will enable you to achieve the success you deserve.
This new online event will feature interviews with subject matter experts on a variety of topics, who will teach you how to:
Enhance your energy and work performance,
Break through roadblocks that may be limiting your success and regain balance in your life,
Enhance your personal brand and help you make a bigger impact in the world,
Use the power of your voice to break through the noise and deliver your powerful, impactful message, and
Use mind mapping to reduce information overload, increase your productivity by 20%, or more and quickly reach clarity on key projects, decisions and plans.
This brand new series of audio interviews will discuss exactly how you can obliterate overwhelm, increase your ability to influence others, and solidify your success in the next 30 days!
You'll learn a lot of great tools, tips and techniques to:
Be more productive than you ever have before,
Increase your value to get the income you deserve,
Build deeper, more effective relationships, and
Contribute at a higher level in your personal and professional life.
These interviews will be delivered in a convenient recorded audio format, which will make it easy for participants to listen when it's most convenient – during their commute, while working out or during dedicated learning time, for example. The 30-minute length is long enough to get valuable advice and short enough to quickly digest and implement.
Participants in this free event will receive a daily email containing links to each recorded audio session, providing them with daily inspiration and knowledge for the duration of the telesummit. In addition, each interviewee will provide the audience with a free tool or resource, further enhancing its value.
It's POWERFUL training… and it's 100% free. Go check it out: