Without actually paging through Up Your Impact, it may be a little hard to understand what it contains and why its beneficial to you. So I put together an infographic to help reveal more information about the format and content of my e-book: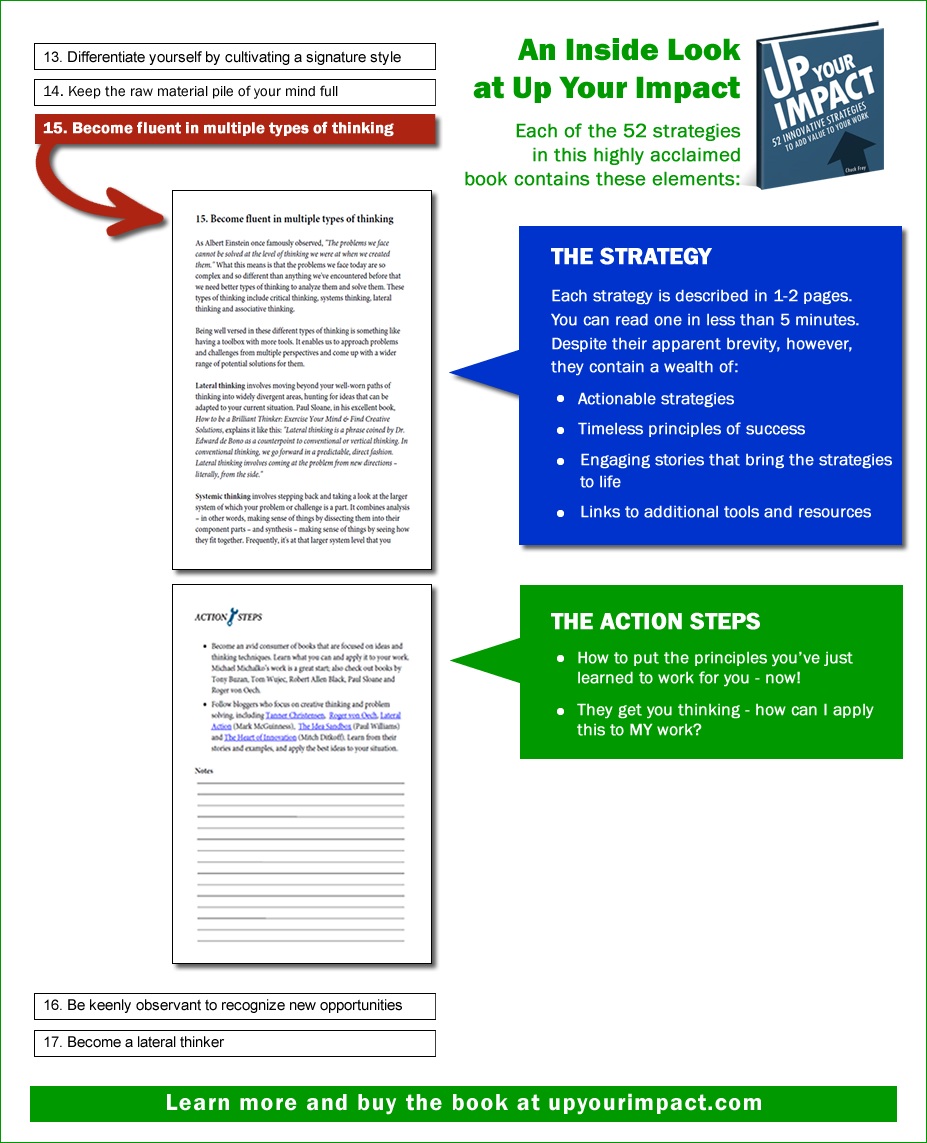 Business book plus workbook
As you can see, Up Your Impact is a combination of a business book and a workbook. It's designed to get you thinking, and then to record your ideas and insights as you digest each of the strategies it contains.
Think of it as a focused tool that's designed to help you increase your influence and success, one manageable step at a time.
What readers are saying
The feedback I've gotten from readers has been very positive. They tell me that they love the actionable format and the principles, stories, resources and tools it describes. Here's what some of the readers of the new Kindle version of Up Your Impact have said in their product reviews:
"As I read the content of Up Your Impact, I realized this information is applicable across all professions and industries, from the self-employed to large corporate conglomerates. This book is chock full of valuable resources, tips, tricks and advice." – Valeria Alba
"I devoured Chuck Frey's book Up you Impact. I couldn't put it down. Its full of practical strategies that I can put to work in both my professional life and in my personal life… Thanks for this great resource." – Todd Colucy
"This is an awesome book with lots of practical examples that are easy to apply. It's also full of resources like recommended books and applications… after reading this book, I believe I am ready for whatever the future brings my way careerwise." – Churchill Madyavanhu
"The strategies n this book are my resolutions …. for each day , week , month and years ahead… Thanks a 'billion,' Chuck Frey." – Tim @timzat
"I have always admired Chuck's great ability to make cogent points succinctly and elegantly. He does this time and again in this marvelous and helpful book… Highly recommended!" – Mikeyboy