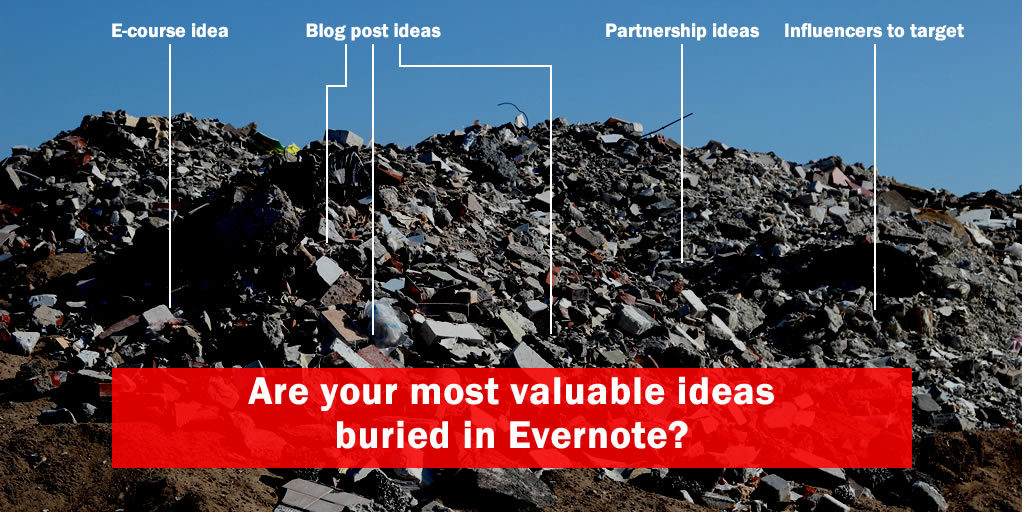 Why you need a process to get the greatest value out of the ideas you store in Evernote
Most people just "dump and run" when using Evernote. They quickly capture their ideas in Evernote but then don't return to do anything with them. My friend Phil Gerbyshak has dubbed this the "garbage pile" approach to using this powerful personal information manager.
Garbage in, garbage out
If you simply toss ideas into Evernote on a regular basis and then forget about them, chances are your thousands of notes have turned into a disorganized morass that has little or no immediate value to you:
Countless blog post ideas and insights.
Inspiration for a new e-course.
Partnership opportunities.
Influencers you need to check out who could help spread the word about your great content.
An outline for an information product that could change people's lives and double your income.
Insights synthesized from some of the best and brightest experts in your niche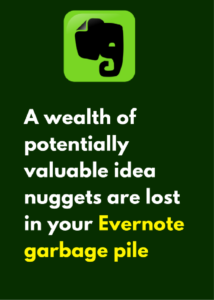 BTW, I mean garbage in the sense of how you TREAT your ideas – not the Evernote product itself. It's quite powerful and well-designed. But it's a blank slate. You could do so much with it, if only you knew what's possible.
As you add more ideas and inspirations to Evernote every week, the information "garbage" pile is getting deeper. Who has time to look through all of this stuff to figure out what's valuable, what's not and how to organize it so it's more usable?
A wealth of potentially valuable idea nuggets are lost in your Evernote garbage pile.
The garbage pile is getting deeper
Because you don't have a process to deal with your ideas, they tend to get lost within Evernote. Many of them may never see the light of day. The constant flow of new ideas that travel from your brain to Evernote will suffer the same fate – unless you change your work practices.
You need a process to manage your ideas.
"The mission we have is to unlock the potential of every idea… My vision is we should facilitate the thinking process." – Evernote CEO Chris O'Neill
It doesn't have to be this way
You can set up a process within Evernote that helps you realize much more value from your ideas. It's easy and simple – you can implement it in a matter of minutes. I'll show you how.
Click here to learn about my new book, Eureka! How to Use Evernote to Generate, Incubate, Evaluate & Activate Your Best Ideas.