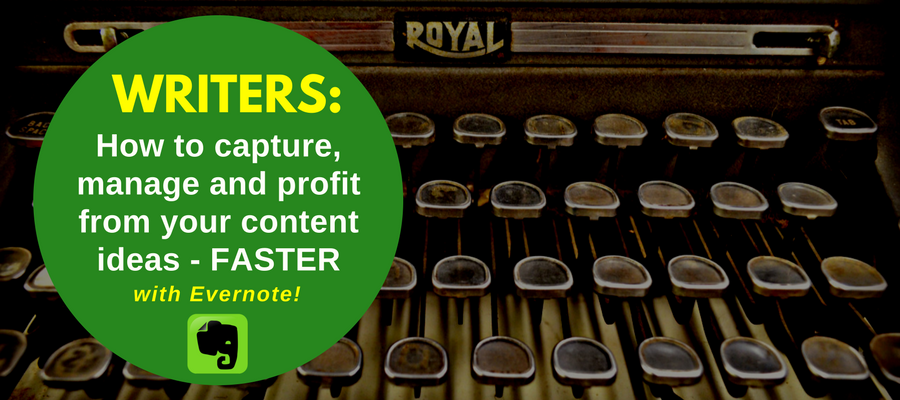 Attention writers:
Does your brain frequently serve up ideas, any time, anywhere?
Have you already captured thousands of ideas and inspirations?
Are they scattered in notebooks, documents or an Evernote database full of thousands of ideas?
Do you need a way to organize and evaluate your ideas, to identify those you should write about?
This is a surprisingly common challenge, especially for a free thinker like you who makes a living from your creative brain.
As a writer, your brain is always "on." You also recognize the value of capturing your ideas, before they get away. Because your creative brain is so highly developed, you see possibilities everywhere and are constantly consuming information that becomes fodder for your writing.
You don't need help brainstorming more ideas – you're buried in them. Hundreds or maybe even thousands of them, if you're prolific like me! Some with a lot of potential value. Some with only a little. How do you tell them apart?
You just wish you had a process for zeroing in on the best ones, so you can move them into your writing process.
A solution for idea overload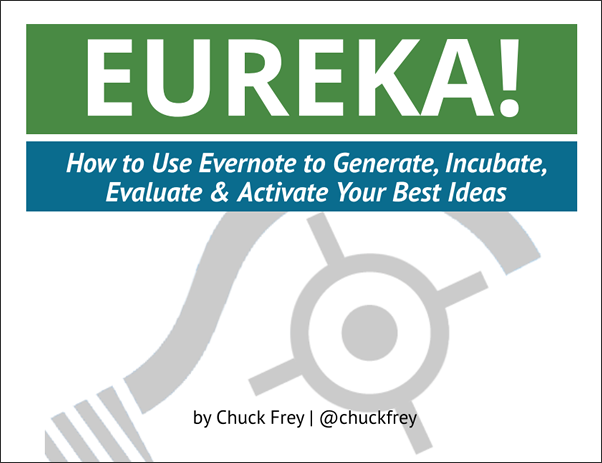 Over the years I only regarded Evernote as an ideal idea CAPTURE tool. I used it to collect thousands of ideas and inspirations.
But it was only when I started to dig deeper that I realized how its design and features enable it to support the entire PROCESS of creativity, from investigation and ideation to evaluation and implementation.
It's truly an end-to-end personal brainstorming system!
That's why I wrote Eureka! How to Use Evernote to Generate, Incubate, Evaluate & Activate Your Best Ideas – to share with you the capabilities I've uncovered, both within Evernote itself and the applications with which it can connect. You can use this process to significantly increase your creative output – and make more happen with your best ideas!
Eureka! – designed for a writer like you
No one has done a deep dive on how Evernote supports the needs of writers – until now.
I have written about all aspects of business creativity and innovation for over 25 years. This deep background has given me the insight that Evernote can support personal and group brainstorming at a deep level. If you set it up properly, it can support an end-to-end creative process that looks something like this: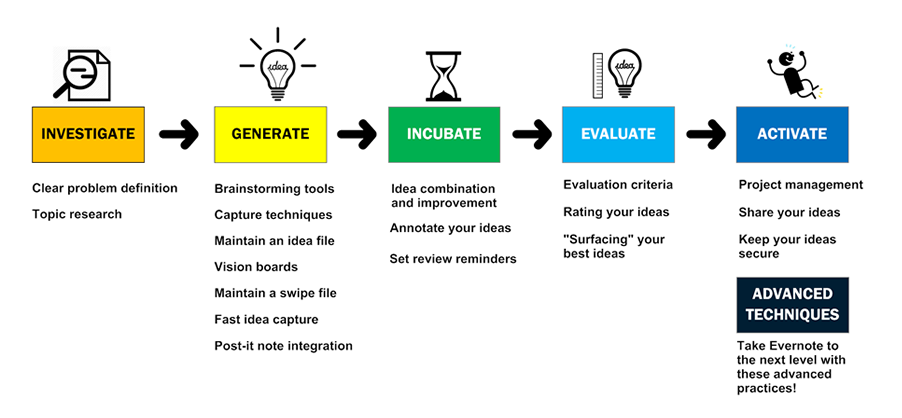 "As someone who creates a ton of content, I need something to keep me organized – and Evernote is my tool of choice. I thought I was using it effectively. Then I got a copy of Chuck Frey's new book, Eureka! – and my mind was blown. I learned many new things about Evernote I can do right now to speed up the content creation process. This resource is one you must get now – or watch your peers get it and crush your business." – Phil Gerbyshak, LinkedIn Social Selling Trainer and author of 5 books and over 2,500 articles
I've written a comprehensive guide that shows you, step by step, how to use this process to efficiently generate, manage and implement your best ideas.
So you can transform the nuggets of gold within your "idea pile" into valuable content!
I've also created a set of attractive, ready-to-use templates that will enable you to get started using this process immediately to increase the quality and quantity of your creative results. You won't find this information anywhere else.
VALUE OF THE BOOK & UPDATES: $100 or more

"There are a lot of books on creative problem-solving, that don't give you specific tools to implement their techniques. There are many books that explain how to use software, but don't give you any frameworks for how to use it to solve real problems. Chuck Frey's book Eureka! helps bridge that gap, uniting the abstract theories and practical tools together in a succinct package." – Tiago Forte, author of Building a Second Brain: Unlock Your Creative Potential Using Evernote
What you'll learn
Here's just a tease at the comprehensive information that's contained in this new creative resource:
Why Evernote is the IDEAL tool for writers – to empower the entire creative PROCESS – p. 6
Why is your smart phone the perfect creative companion? – p. 9
Why it's crucial that you accurately define your challenge – BEFORE you brainstorm – p. 12
Adapt existing ideas in 7 highly creative directions using this proven ideation technique – p. 15
What is morphological analysis – and how you can use it to kick-start your muse with amazing possibilities – p. 7
How a creative technique designed by the CIA can help you solve your creative challenges – p. 21
How to structure Evernote so your ideas are easily retrievable – p. 25
The visual application that can transform your Evernote ideas into an inspiring "vision board" – p. 28
How to use Evernote as a powerful "swipe file" (and how to leverage others' ideas – legally) – p. 30
The important step most people skip after brainstorming new ideas (and why you MUST do this) – p. 34
How to assure you actually GET value out of the ideas you've generated and captured – p. 37
How to leverage Evernote to take ACTION on your best ideas – p. 43
How to integrate Evernote with a wildly popular physical tool for capturing ideas – p. 46
How to capture ideas in Evernote – even faster – with these streamlined apps – p. 49
A remarkably simple app you can customize to make your own creative "daily pages" – p. 54
How to generate and capture ideas on your Apple Watch (this is SERIOUSLY COOL!) – p. 60
10 creative thinking TEMPLATES you can use with Evernote to supercharge your ideation – p. 66

"If you value the power of BIG IDEAS, I'm almost certain that you've experimented with various ways of capturing your big ideas: Notebooks. Voice memos. Post-its. Napkins. Whiteboards. Mind maps. If so, you are likely to be intrigued by Chuck Frey's newly published guide about how to set up Evernote to support a complete, end-to-end creative process. We like Chuck. You will, too." – Mitch Ditkoff, Founder, Idea Champions, and author of several books about creativity
10 templates help you be more creative – immediately
Eureka! contains 10 brainstorming, idea capture and evaluation templates that will help you get started FAST with what you've learned. They will also help you stay organized and maximize the value of your ideas going forward. Each template includes instructions on how to use it, so you can start brainstorming with Evernote right away!
VALUE OF 10 TEMPLATES: $100

"If your income and the quality of your life involves creativity, Chuck Frey's Evernote creativity book will change your life! Chuck's 5 step creativity process and 10 Microsoft Word templates show how to turn Evernote into your most powerful creative tool. Thanks, Chuck!" – Roger C. Parker, founder, Published & Profitable
My qualifications
Writing is my vocation: I've written for a living for over 30 years, first in business-to-business PR and digital marketing, and now as a respected content strategist and marketer.
Writing is also my avocation: I have written about brainstorming and creative problem-solving techniques for over 20 years, and founded and managed the world's largest website devoted to innovation from 2002 to 2012 (InnovationTools.com). I continue to write about creativity tools and techniques on my personal blog and on the Mind Mapping Software Blog, the #1 website covering mind mapping and all forms of visual thinking.
In short, I need efficient tools and processes to help me move my ideas to content. That's why I  have spent 20+ years seeking the best idea generation, capture and management tools – and now I'm convinced I've found it in Evernote and the creative process I outline in this book.

"Lots of people know what a useful tool Evernote can be. But only Chuck Frey has uncovered its full potential as a creative ideation tool. Who knew you could do so much with an app designed to capture and categorize information? One definition of 'innovation' is taking something good, and making it incrementally better. Chuck has done that with this book. As someone who spends a great deal of time studying and sharing insights on innovation and creative problem solving, this is a provocative and very valuable read." – Keith Harmeyer, Founding Partner, SmartStorming.com

Who is this book for?
If your work or passion involves turning your ideas into content, you can profit from this book. If you are a:
Blogger
Freelance writer
Advertising copywriter
Content strategist
Content marketer
Marketer
Public relations professional
Social media specialist
This book was designed with the unique needs of writers and creatives in mind!

"Eureka is fantastic, actionable, and inspiring. It has revolutionized the way I organize my ideas and has me excited about Evernote all over again." – Serai Schueller, marketing writer
What's in it for you? An abundance of value
You'll be able to bring order to the thousands of ideas you've already captured
You'll have a simple process you can use to improve, evaluate and take action on your best ideas
You'll have a repeatable process for bringing more of your ideas to life – imagine what that could be worth to you!
You'll be armed with a set of tools that enable you to be creative – on demand
As Seth Godin so wisely counseled us, you're only as good as your last project: "Projects are about better, about new frontiers, about making change happen. When in doubt, dare."

"I've long been a believer that the right tools can make the difference between a good outcome an a great one. I've used Evernote for quite a few years to help me write my books and store new ideas. Chuck Frey's new book has given me a host of new ideas and ways to improve my use of Evernote to be more creative. It's the only book like it among all the other Evernote tutorials. I definitely recommend it!" – Stephanie Diamond , author of "The Visual Marketing Revolution" and over 8 other marketing books
Eureka! vs. the incredible value of your ideas
"How dare you settle for less when the world has made it so easy for you to be remarkable?"
– Seth Godin
All it takes is one winning idea and this book will pay for itself many times over.
Even an incremental improvement in one area of your work is potentially worth hundreds or thousands of dollars to your employer. Achieve this modest goal and you'll already have paid for the book and templates several times over.
Armed with all of the knowledge, tools and resources I'm going to share with you, your take-away value over the next year could easily range into five or six figures. That's right – your best idea could be worth $10,000 to $100,000 in the next 12 months. At that point, your investment in these tools and resources is absolutely miniscule.
Amplify the quality and impact of your content ideas with Evernote today!
Use it risk-free for 60 days
If, after reviewing Eureka!, you don't agree that it has increased your creativity and productivity by 50% to 100% or more ….
Or you are not 100% satisfied for any other reason …
Just follow the instructions in your purchase confirmation e-mail to request a full and prompt refund of your $34.95 within 60 days of your purchase. In other words, you risk nothing.
So, what are you waiting for? Now is the time to seize the day and realize more value from your creative ideas!