Your next BIG idea is out there. You just need to know how to spot it. The expanded 2nd edition of Creativity Hacks can help.
Here's a little secret: Creative people view ideas differently than the rest of us. When we're presented with a problem, our natural tendency is to focus on the problem itself. Creative people, on the other hand, focus on finding creative solutions. They believe that the ideal solution already exists – and it's their job to find it.
Creativity Hacks will inspire you to explore in new places, to make new connections, to dig deeper and discover new insights. It will help you to seek out new knowledge and sources of inspiration – so you can profit from the opportunities that are all around you.
"I have come to realize that the difference between a great book on brainstorming and a mediocre one is the difference between lightning and the lightning bug. Chuck Frey's book is the lightning. The book is a treasure chest of proven tools and techniques. It is the answer to all your questions about how to create countless profitable ideas." – Michael Michalko, author of Thinkertoys and Cracking Creativity
"Creativity Hacks hits the perfect balance between ideas and action. It not only suggests the new approaches that are so urgently needed in these times but it offers pragmatic implementation ideas and tips." – Roger C. Parker, best-selling author and marketer extraordinaire
What's new in the 2nd edition of Creativity Hacks?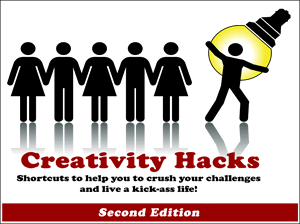 Since I published the first edition of Creativity Hacks in early 2010, much has happened. Specifically, mobile devices and apps have moved to the forefront of the computing world for most people. Social media has become a much larger part of the ways in which companies do business and people find information. Cloud-based computing has also become a much bigger deal. And new tools and resources have emerged that can help us be prodigiously creative. With that backdrop in mind, here's what's new in the second edition of Creativity Hacks:
There's so much new to cover that version 2.0 contains over 100 new pages of creative problem solving techniques, tools and resources to help you excel in your work and life.
I've added a new new chapter on using social media to enhance your creativity.
I've highlighted some of the amazingly smart new voices in the creativity space with reviews of their books.
This edition goes much deeper into the world of creativity tools and apps that enable any time, anywhere brainstorming and highly efficient capture of ideas, any time, anywhere.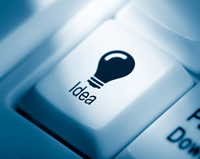 In short, Creativity Hacks 2nd edition contains dozens of valuable new resources for you to learn about and explore that can help you generate valuable ideas to propel you toward your goals and dreams.
"Tough times call for new ways of thinking. Creativity Hacks provides an excellent roadmap to the ideas and strategies you need to know to generate breakthrough ideas and thrive in today's uncertain world."– Marco Marsan, author, Thinking Naked
"Chuck has put together a wonderful resource that will not only awaken your creativity, but cause it to blossom. I was surprised by the wide variety of creativity ideas and tools that Chuck covers. As a keen mind mapper, I was impressed by his coverage of mind mapping and other visual thinking tools and methods. But, above all, I finally found a way to cultivate a better creative life." – Faizel Mohidin, publisher, Using Mind Maps e-magazine
In this information-packed, 212-page e-book, you'll discover:
How a daily regimen of creative thinking can transform your life (p. 14)
How cultivating an "insight outlook" can help you to see many more opportunities – all around you! (p. 18)
Creative lessons from one of the greatest stories ever told (p. 33)
What no one has ever told you about questions, and how they are like rocket fuel for creative problem solving (p. 42)
The 7 all-time greatest ideation techniques (p. 45)
12 of the best apps for any time, anywhere brainstorming on the iPhone (p. 76)
10 ways to grow your idea – and make it even more valuable (p. 109)
Questions that you can use to evaluate your ideas – so you can quickly identify the best ones for implementation (p. 72)
How to use Evernote as an idea management tool (p. 117)
How to unlock creativity and take it to the next level with visual thinking (p. 132)
Social media as a catalyst for creativity – it's more powerful than you think! (p. 158)
How to increase your odds of serendipity with Twitter (p. 162)
Envisioning what's possible with Google+ (p. 165)
Learn which notebook is an ideal creative companion, filled with exercises that will get you thinking in fresh, new directions (p. 179)
The smartphone app that places over 100 creative thinking methods in your pocket (p. 195)
The iPad app that provides an amazingly flexible canvas for capturing and organizing your ideas – including words, lists, images, attachments and more (p. 208)
My unique perspective on creativity
As you probably realize, there are dozens of creativity books published every year. Each of them deals with a specific aspect of the creative process, or promotes the author's proprietary process for being more creative.
Creativity Hacks takes a broader look at ALL aspects of creative thinking and problem solving. The infographic below gives you a clear idea of the perspectives and expertise that I bring to Creativity Hacks. You benefit by getting convenient access to a vetted list of the best tools, techniques and resources that will help you be more creative, productive and successful in your work.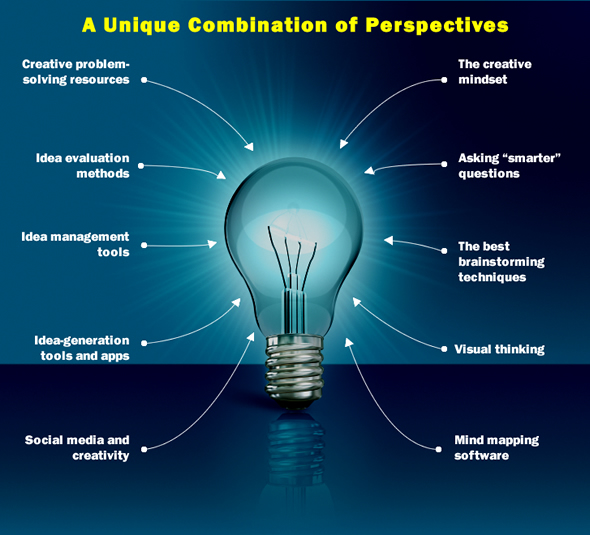 "Creativity Hacks is one of the best introductions to creativity I have seen. Chuck has a unique birds-eye view of the industry and he shares this wealth of knowledge in his new e-book. Learn from the one of foremost experts in creativity and innovation!"– Kes Sampanthar, MetaMemes.com, inventor of ThinkCube
"Creativity Hacks will unleash your true genius – and immediately put it to work."– Mark Alan Effinger, serial entrepreneur and developer of ThoughtOffice software
How Creativity Hacks saves you time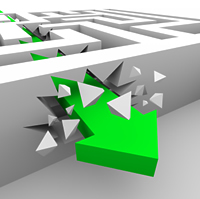 In today's lingo, a "hack" is a time-saving tool or technique that helps you get more done, more effectively than you could using conventional methods. That's why my book is called Creativity HACKS.
It will save you many hours of time that you'd otherwise have to invest in gathering and digesting books and resources on creative thinking and problem solving.
I help you focus on taking creative ACTION.
Creativity Hacks delivers an outstanding ROI: "Return On Ideas"
The creativity tips, techniques and advice contained in Creativity Hacks are among the most powerful ever collected in one place. When you're done reading them, you'll be more empowered and resourceful. You'll be able to see ideas and opportunities everywhere. Once you develop a creative mindset, you'll find there's nothing else like it.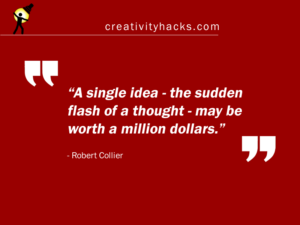 I'm confident the principles and techniques contained in Creativity Hacks can easily help you to generate ideas that are worth $10,000, $100,000 or even $1 million or more this year.
But it won't cost you $10,000 … or $1,000 … or even $100 to profit from the ideas in this unique reference guide.
Instead, you pay only $24.95 … about the price of a nice dinner at a decent restaurant. In other words, even if you generate one profitable idea, Creativity Hacks will more than pay for itself!
The expanded 2nd edition of Creativity Hacks is an even better value: The wealth of new resources I've gathered has caused the book to more than double in size – but I have not increased the price. That means a bigger ROI for you!
Use it risk-free for 60 days
If, after reviewing Creativity Hacks, you don't agree that it has increased your creativity and productivity by 50% to 100% or more ….
Or you are not 100% satisfied for any other reason …
Just follow the instructions in your purchase confirmation e-mail to request a full and prompt refund of your $24.95 within 60 days of your purchase. In other words, you risk nothing.
So, what are you waiting for? Now is the time to seize the day and live a more creative life!
Now is the time to improve your creative problem-solving skills. Be proactive. Set new standards. Rise above the rest by solving tomorrow's problems today!
---
About Chuck Frey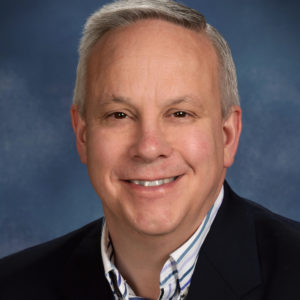 Chuck Frey was the founder and publisher of the InnovationTools website from 2002 to 2012 and is the publisher and author of and the Mind Mapping Software Blog, the leading blog focused on this type of productivity software. He is also the author of a book and blog about personal development, Up Your Impact.
He has had a life-long interest in creativity and in living a creative, fulfilled life. He has written numerous articles on the subject of creativity, as well as reviews of creativity-related tools and software.
What some of his peers say about Chuck Frey and the Creativity Hacks e-book:
"If you are looking for a breakthrough – whether it's in the realm of innovation, collaboration, business or personal relationships – give everything you have. Go all the way. Let it rip. One of the best ways to do that is to invest in Creativity Hacks, Chuck Frey's new e-book. It's rocket fuel for your creative muse!" – Mitch Ditkoff, President of Idea Champions and author of Awake at the Wheel: Getting Your Great Ideas Rolling in an Uphill World
"Chuck Frey has put together a tremendous set of tools and ideas to turn the mundane into the magical. If you want to inject your thinking with a creativity super-boost, and let's face it who doesn't need that, then you need Creativity Hacks."– Michael Tipper, Thinking Development Specialist
"I like to say that 'an idea that's bold is worthless 'til sold' but the even harder truth is that an idea unrecorded is an idea that can't be recovered. Use the lessons in Chuck Frey's new book Creativity Hacks to guide you in the best ways to cultivate and capture your own innovative insights." – Don The Idea Guy, author and professional brainstormer
"Chuck Frey has compiled the ultimate creativity pocket book. Carry it with you or leave it on your desk to dip into as needed. There is an idea or technique for just about every occasion. You cannot afford to be without Creativity Hacks." – Derek Cheshire, author of the Creativity & Innovation Blog