Times are still tough for many people. That's why I've decided to make a change in how I sell Up Your Impact: When you purchase a copy of my new book, I will give you the opportunity to "gift" one free copy to the person of your choice.
Why am I doing this?
Because I really want to help people who are out of work, under-employed or simply are unhappy in their life's work. Many people have gotten beaten down by the prolonged recession, and have lowered their expectations, after three years or more of struggling to make ends meet. They are starting to believe that this is the "new normal" that they simply must learn to accept. I throw down the B.S. flag on that idea.
It doesn't have to be that way.
You can change your outlook and your attitude from one of limitation and complaining to one of contribution and creativity and begin to transform your work, one step at a time, right where you are now. You CAN make a difference!
My new Buy 1, Gift 1 program
My challenge as a book author is to get Up Your Impact into more hands, so more people can be positively influenced by the ideas and strategies I have gathered. So I have decided to emulate a powerful business model: TOMS Shoes & Eyewear. When you buy a pair of shoes from its online store, TOMS donates a pair to someone in need. What a cool idea!
I got to thinking: Why not do that with Up Your Impact? Double the impact, double the lives affected. Why not, indeed!
Giving YOU the opportunity to pay it forward
My adaptation of the TOMS business model is that I'm putting the giving into YOUR hands. Here are some ways you can put your free copy of Up Your Impact to work:
Give it to a relative, a friend or a colleague who is unhappy in their current work situation, and could use some encouragement.
Give it to a coworker and form your own Master Mind group to study the book together and formulate your plans for taking action based on what you've learned
Give it to a recent college graduate, who needs help landing (and keeping) that first Big Job Opportunity.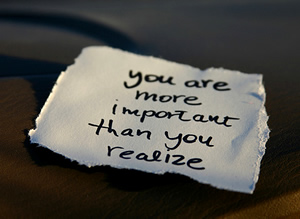 You are more important than you realize.
By giving someone who needs help a copy of this book, you could help them to revitalize their career – and their spirit – in ways you may have never dreamed possible. You'll be a gift to them – in the best possible way!
Retroactive giving
If you have already purchased a copy of Up Your Impact, please forward your purchase information to me, along with the information below, and I will send your designated person a complementary copy of the book!
Please send me:
Your name and e-mail address
The name and e-mail address of the person to whom I should send the send a copy of my book
A few sentences on what's motivating you to do this for him or her
A few sentences that you'd like me to pass along to your person in need
The bottom line
I feel blessed in my life, and I want to share more of my time, talent and treasure with others. Empowering you to help others is a way to get that ball rolling in a bigger way.
As I said, my entire motivation is to make a bigger impact and to help more people. Won't you help me?
P.S. If you think this is an idea worth spreading, please share this link with the people in your social networks. The more people who know about Buy 1 Gift 1, the more people I can help. And that's a very good thing!