Grab These 2 Powerful Creativity Resources to Accelerate Your Advancement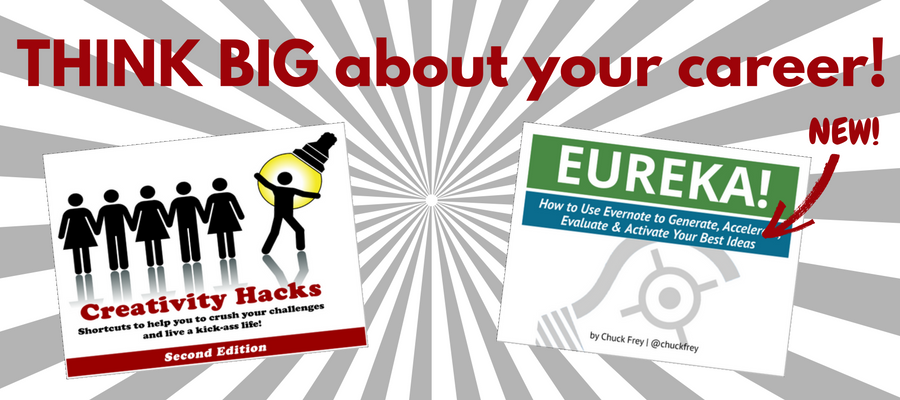 What are your career goals for 2017? Now is the time to think BIG!
After a long, slow recovery, businesses are finally beginning to see the light of an upturn. Technology continues its ever-quickening march. And accelerating change means you need to ensure that the skills you're cultivating are those that meet today's – and tomorrow's – needs.
Creativity: Rapidly growing in importance to businesses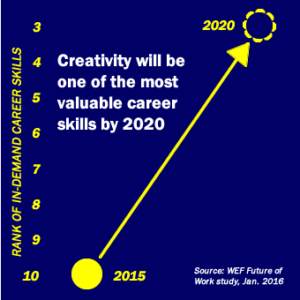 Creativity is already one of those key skills that is a difference-maker for savvy executives. But it's poised to become even MORE important in the next several years. A report issued earlier this year by the World Economic Forum, The Future of Jobs, looks at the employment, skills and workforce strategy for the future. In 2020 – only 3 years away! – it lists these as the top 3 skills that will be in greatest demand:
Complex problem solving
Critical thinking
Creativity
What do these have in common? Thinking differently about the challenges and opportunities we face in our work, career and life. From 2015 to 2020, the Future of Jobs report shows creativity leaping up the list, from #10 to #3. If you want to future-proof your career AND accelerate your results in 2017, creative thinking and problem solving should be at the top of your skills development list.
Fortunately, I have created two resources that can help you make this leap:
Creativity Hacks: Shortcuts to Help You Crush Your Challenges and Live a Kick-A** Life
Eureka! How to Use Evernote to Generate, Incubate, Evaluate & Activate Your Best Ideas (NEW!)
You must think DIFFERENT
If you keep doing the same things you've always done, you're going to continue getting results you've always gotten. If you want to accelerate your career in 2017, then you MUST do something differently. I believe beyond a shadow of a doubt that creativity is one of those difference-makers!
P.S. Just to clarify: Creative thinking and problem solving isn't just for the anointed few – it's a powerful skill you CAN learn, cultivate and benefit from!