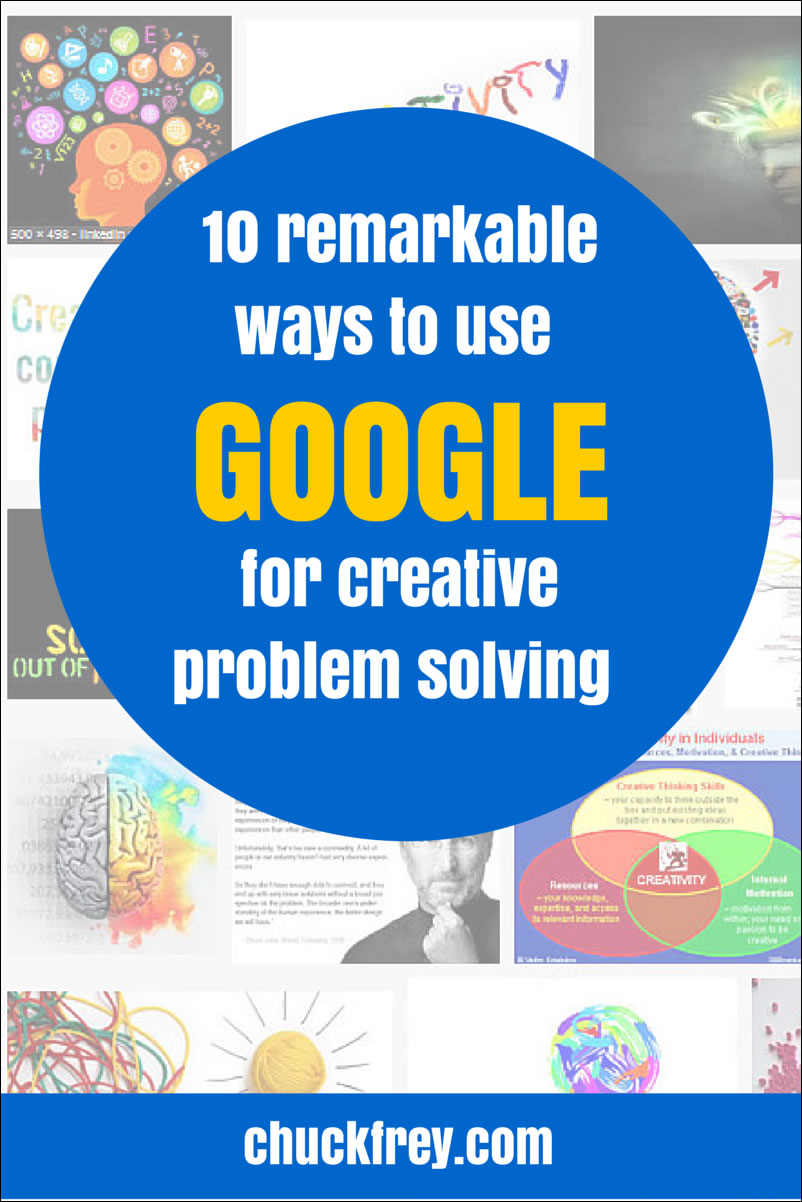 Did you know that Google isn't just the world's most popular and powerful search engine? It's also an awesome tool for creative problem solving.
Here are 10 ways you can use its rich set of online tools to supercharge your creativity:
1. Problem finding: Phrase your challenge or a problem as clearly as you can. Extract keywords from your problem statement and conduct a search on them. You may uncover similar problems people in other industries or markets have faced, and discover how they solved them. You may be able to adapt their solutions to your needs.
2. Keyword associations: Do a keyword search related to your challenge. Skim the search results for keywords and concepts that grab your attention. Write them down and then use them as catalysts to brainstorm fresh ideas and solutions.
3. Image stories: Use Google image search to locate photos, illustrations and artwork that inspire you. Select a handful of images and imagine the story behind each one. What's going on in that instant of time,  captured in it? Write it down in rich detail. Then try to force fit the story you've crafted with your challenge. What insights or ideas does this exercise provoke?
4. Google Plus search: Conduct a search Google Plus to see what others are saying about similar problems and challenges. Also look for Communities that may be focused upon your needs.
5. Ask questions: Pose a question on Google Plus targeted to a small circle of people that you trust completely. Remember, circles give you very finite control over who can see your posting this and who cannot.
6.  Locate thought leaders and ask for help: Use Google searches to locate subject matter experts and thought leaders. Arrange an informational meeting with them, in person or online, to pick their brains. Stay open-minded: These people may be potential partners on your idea. When having these types of discussion, it's always wise to have a signed NDA in place first.
7. Do a Google Patent Search to determine if anyone has developed a solution similar to the one you're considering.
8. Use Google Scholar to search academic and technical papers for topics related to your problem, challenge or idea. Often, new concepts will surface here first. Google Scholar includes articles, patents and case law.
9. Use Google Drawings to visualize your problem or challenge as a diagram or flowchart. Often, viewing it in this way can help you to deconstruct your challenge and see elements of it that may hold the seeds to an elegant solution to it.
10. Use Google Keep to create a lists to capture your ideas. Be sure to download the Google Keep Chrome extension, which makes it easy to capture your notes and sticky note type format quickly and easily.
The next time you are working on ideas for a project or trying to generate ideas and solutions for a challenge, why not turn to Google's powerful toolbox to assist you in your creative problem-solving needs?